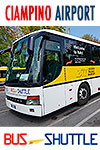 Rome Ciampino Airport Shuttle Bus
Precio desde € 6.60
Get from Ciampino Airport to the center of Rome cheap and easy! Book your spot on the shuttle bus service between Ciampino Airport and Rome Termini Train Station. The journey takes about 40 minutes depending on traffic.

Highlights:
- Travel from Ciampino Airport to Rome Termini Station
- Get from the airport to Rome in 40 minutes
- Enjoy a flexible ticket - valid all day + the following day
- Bring children under 4 for free
- Enjoy free wifi onboard the bus

How do I get my tickets?
Shortly after your booking is complete your e-ticket will be sent directly to your email, just print it out and bring it with you to Ciampino Airport.

How does it work?
Once you arrive at the airport, exit the arrivals building, turn left and continue to the parking lot, the bus is departing from lane number 2.

From Rome Termini Station, take the bus at Via Marsala 5, opposite Hotel Royal Santina.

Where does the bus stop?
The bus stops at Piazza Cavour near the Vatican and at Rome Termini Station (the central station in Rome).

How long is my ticket valid?
A single ticket is only valid on the chosen date + the day after. A return ticket is valid for 1 month from the outbound travel date.

How much luggage can I bring on the coach?
You can take two 20 kg suitcases and an item of hand luggage per person.

How long is the journey time?
The journey time is approx. 40 minutes depending on traffic.

How often do the buses run?
The buses run every 30-45 minute.

When do the buses operate?
From Ciampino airport the buses run from 7:45 AM, the last bus is at 11.59 PM.

From Rom Termini Station the buses run from 4:30 AM, the last bus is at 9:30 PM.

What ticket types are available?
Adult (4+)
Child (0-3): Free of charge

Important information:
- For travel to airport, please allow plenty of time before your scheduled flight. Exceptional traffic conditions, filled-up coaches and of course airport security can greatly alter your travel plan.
- We recommend allowing at least 3 hours between your coach arrival time and scheduled flight departure.


Clientes Satisfechos
Ida tortura vuelta gloria
"En la ida cancelaron el express cambio de 2 Trenes y 2 Mtros mal. Vuelta ..."

(5)

José ramon, Lekeitio
VIE, 19 FEB 2016

Ver todos
Porque comprar con nosotros?

Más de 3 millones de entradas vendidas

Pague en Euro sin ningún coste adicional por el cambio de moneda

25 años de experiencia en ventas de entradas

Sistema de pago 100% seguro